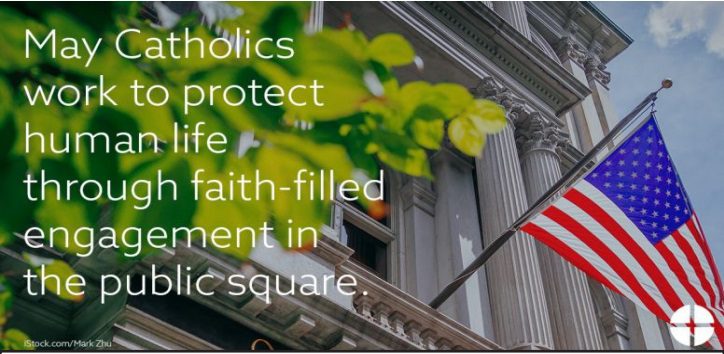 RESPECT LIFE-PRAYER & ACTION
Pray: Our Father, 3 Hail Marys, Glory Be
Reflect: In Dobbs v. Jackson Women's Health Organization, the Supreme Court overturned Roe v. Wade and returned the issue of abortion to the people's elected representatives at both the state and federal level. Despite this monumental legal victory, abortion policy is far from settled. In the Gospel, Jesus tells us that we are "the salt of the earth" and "the light of the world" (Mt. 5:13-14). As Catholics, we have a duty to pursue the common good and to work for the protection of the most vulnerable. Our faith, formed by the teachings of the Church, should guide our engagement in civic life.
Inspired by the Gospel, we must do what we can to end violence in the womb, to ensure that preborn children are fully protected by our laws, and to support mothers and fathers in welcoming and nurturing their children. May we all faithfully embrace our shared Christian responsibility and be strengthened by God's grace when we encounter resistance or persecution. Together, may we help build a culture of life and civilization of love in our nation.
Act (Choose one.):
• Read and meditate on Matthew 5:1-16. Pray for the grace and courage to bring your faith into the public square, working for the protection of all human life.
• Choose one day over this next week to fast from entertainment. Refrain from television, movies, social media, and non-spiritual reading.
• Offer some other sacrifice or prayer that you feel called to do for this month's intention.